1. Niederrhein-Tour 2012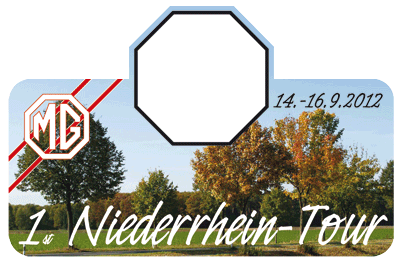 Die Niederrhein-Tour feierte Premiere vom 14. bis 16. September 2012 in der Gegend zwischen Heinsberg und Kleve auf der linken Rheinseite. An drei Tagen erforschen wir die Umgebung und fuhren in der Regel über Nebenstraßen zu den jeweiligen Zwischenzielen.
Besonders stolz konnten wir sein, dass wir seitens des britischen MGF Registers Teil der Hardtop-Staffette werden durften, die für einen guten Zweck im Rahmen der Olympiade in London veranstaltet wurde.
The Niederrhein-Tour went for its premiere from 14 to 16 September 2012 in the area between Heinsberg and Kleve west of the river Rhine. On three days we explored the countryside, driving mostly along B-roads to our various destinations.
We were especially proud to be allowed into the UK MGF Register's Hard Top Relay, which was a charity event inspired by the London Olympics.