Hard Top Relay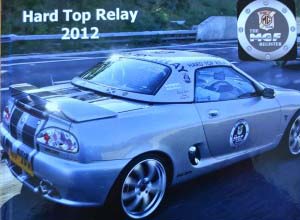 Das MGF Register Hard Top Relay wurde vom olympischen Fackellauf inspiriert. Wie bei einem Staffellauf wurde das Hardtop (eine Spende von Church Square Autos in Shepperton am Stadtrand von London) auf einer Vielzahl von MGFs und TFs durch das ganze Vereinigte Königreich geschickt. Und jeder, der mitmachte, beteiligte sich mit einer Spende für "Whizz Kids", eine Organisation, die sich um Mobilität für körperbehinderte Kinder bemüht.
Unsere Niederrhein-Tour wurde als "Ehrenrunde" hintendran gehängt, und wir erzielten ein hervorragendes Ergebnis.
The MGF Register hard top relay was inspired by the Olympic torch relay, both of which covered mainland Britain over a couple of weeks in the summer of 2012. The hard top, which was a donation from Church Square Autos in Shepperton, Surrey, went on a multitude of MGFs and TFs througout the UK. And everybody taking part in the relay would donate for the Register's charity going to "Whizz Kids", an organisation taking care to mobilise disabled children.
Our Niederrhein-Tour was counted as the "lap of honour", with us adding a considerable amount to the worthy course.
Hard Top Relay
Deckel drauf für die gute Sache