Samstag | Saturday
Für den Samstag hatte ich mir diesmal eine kleine Gemeinheit ausgedacht: Ich hatte alle Teilnehmer gebeten, zum Start in meinen Ortsteil Amern zu kommen, wo wir dann am Parkplatz vor der Kirche starteten. Allerdings fuhren die Autos auf unterschiedlichen Strecken, immer einer links – einer rechts. So konnte keiner dem anderen einfach hinterherfahren.
Unterwegs waren außerdem noch mehrere Streckenteile vorgesehen, wo man sich in entgegengesetzter Richtung begegnete. Und dann mussten gleichzeitung auch noch Aufgaben erfüllt werden.
For the Saturday I had been a little mean with my planning: All participants had been asked to drive to my home ward of Amern, where we would start from the car park next to the church. But this time the cars had to be driven on alternating routes, one leaving to the left, the next to the right. So noone could simply follow the car in front.
On the way, there were parts of the route where the two groups would actually meet each other in oncoming traffic. At the same time, some challenges had to be dealt with.
Dieser erste Teil der Strecke endete an der Steprather Mühle in Geldern-Walbeck, der ältesten voll funktionsfähigen Windmühle Deutschlands, wo wir die Besichtigung mit einem Müller-Imbiss abschließen konnten. Danach ging es (nun wieder auf gemeinsamer Route) weiter nach Viersen.
This first part of the route finished at the Steprather Mühle in Geldern-Walbeck, Germany's oldest fully functional wind mill, where we finished off the guided tour with a miller's breakfast. After that, the tour went on (now back on a joint route) to Viersen.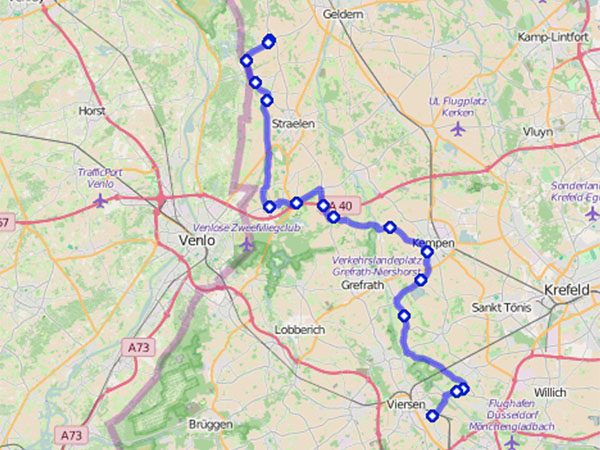 In Viersen trafen wir uns in einem kleinen Gewerbegebiet zur "Fahrprüfung". Diese bestand aus einer Beschleunigungs- und Bremsprobe sowie aus den rückwärts einparken in eine vorgegebene Fläche.
In Viersen we met in a scmall commercial area for a "driving test". The drivers had to accelerate their cars and brake on a line, and reverse park the cars into a given box.
Von Viersen ging es – vorbei am ehemaligen NATO-Hauptquartier in Rheindahlen – durch den Hardter Wald nach Wegberg, wo die nächste Mühle auf und wartete: Die Schrofmühle, eine alte Wassermühle. Auch hier konnten wir eine Führung sowie ein paar Erfrischungen genießen.
Setting off from Viersen, we passed the site of the British Forces' former Rheindahlen JHQ through the Hardterwald forest and drove on to Wegberg, where the next mill was waiting for us: the Schrofmühle, an old water mill. Here again we could enjoy a guided tour and some refreshments.
Nun ging es nur noch ein paar Kilometer zurück nach Waldniel, wo wir auf dem Marktplatz parken durften. Abends trafen wir uns zu einem chinesischen Essen im Hotel Rath, wo auch einige der Teilnehmer untergebracht waren.
Then it was just a couple of miles back to Waldniel, where we were allowed to park the cars in the market square. In the evening, we met for a Chinese dinner at Hotel Rath, where many of the participants were booked in.