Samstag | Saturday
Am Samstagmorgen hieß es Abschied nehmen von Straßburg. Zunächst ging es auf der Autobahn ein Stück nach Westen, wo schon in Stutzheim die erste Frage zu beantworten war. Wer alles richtig hatte, kam dann über die Zaberner Steige und durch die Wälder der Nordvogesen in das kleine Dorf Graufthal, wo wir die dortigen Felsenhäuser besichtigten.
On Saturday morning we had to say good-bye to Strasbourg. Firstly, we went west on the motorway for a short part of the route, but in Stutzheim the first question waited to be answered. Those who got everything correct would then drive across the Col de Saverne and throuch the northern Vosges forests to the small hamlet of Graufthal. There we visited the troglodyte mansions.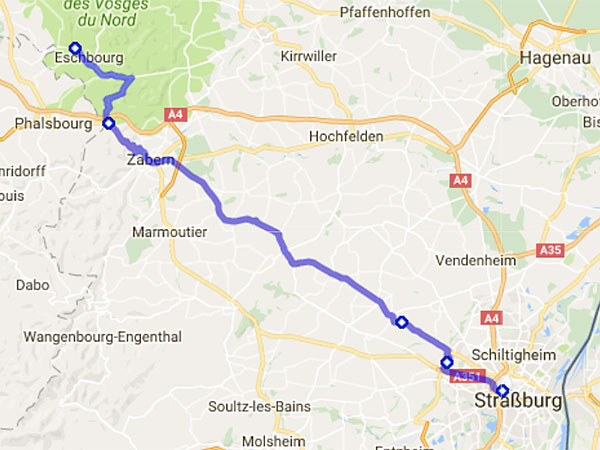 Von Graufthal führte der Weg zunächst weiter über kurvige Straßen durch die Wälder ins "Krumme Elsass", einem Zipfel, der nach Lothringen hineinragt. In Altwiller, dem letzen Dorf vor der Lothringischen Grenze wurde dann zünftig mit Flammkuchen satt Mittagspause gemacht. Das Restaurant, die Hutte Gauloise, hatte extra für uns aufgemacht!
From Graufthal we took some more bendy roads through the forests into the "Crooked Alsace", a nose-shaped part of the Alsace region extendng into Lorraine. We then had lunch in Altwiller, the last village before the Lorraine border, it was tarte flambée all you can eat. The restaurant, named Hutte Gauloise, was specially open just for us!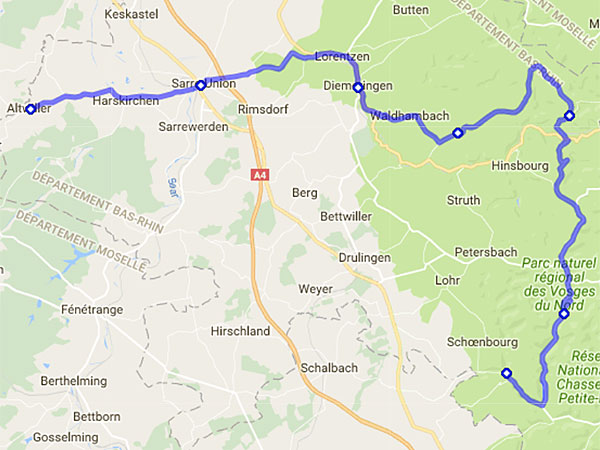 Nach dem Mittagessen ging es auf eine recht lange Etappe durch Lothringen, entlang der deutschen Grenze bis zum Dreiländereck (Frankreich-Deutschland-Luxemburg) nach Schengen, wo das Wetter deutlich besser wurde. Am dortigen Europa-Museum (hier wurde das Schengener Abkommen unterzeichnet) konnten wir die MGs im extra abgesperrten Gedenk-Park abstellen, was für ein großes Hallo bei den anwesenden Touristen sorgte. Während einige das Museum besuchten nutzten andere die gelegenheit, im Café eine Erfrischung zu nehmen.
After lunch we went for a quite long trip through Lorraine, along the German border to the Three-Country-Point (Frnce-Germany-Luxembourg) at Schengen, where the weather improved significantly. At the European Museum (the Schengen Agreement had been signed here) we could put the cars in the specially reserved memorial park, causing a big interest with the tourists present. While some of us visited the museum, others took the opportunity to have some refreshments in the cafe.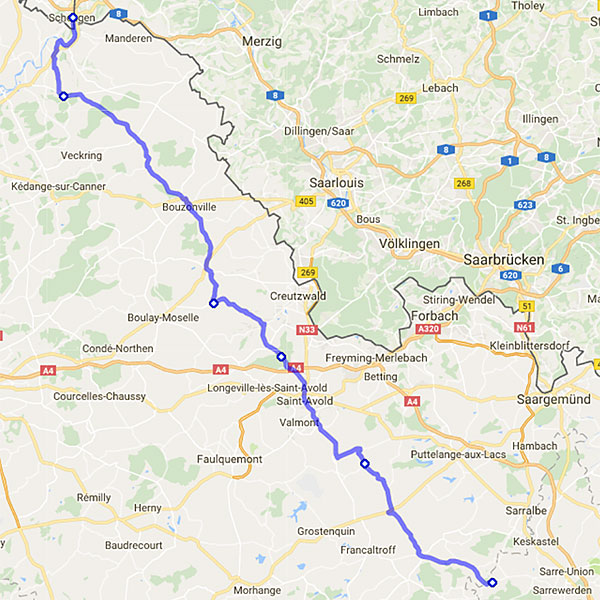 Von Schengen war es nur noch etwa eine Stunde bis nach Larochette zum Hotel de la Poste, wo wir uns zunächst alle trafen. Da im Hotel nicht alle Teilnehmer unterkommen konnten, hatte Maria sich darum gekümmert, für den Rest Zimmer in anderen Hotels am Place Bleech zu reservieren. Parken konnten wir aber alle bei ihr.
Nach dem Check-in ging es zum Abendessen in die Fielser Stuff, die ein uriges portugiesisches Restaurant ist. Man fühlt sich wirklich wie in Lissabon oder Porto. Am Abend feierten wir dann alle zusammen Peters Geburtstag auf der Terrasse des Hotels de la Poste.
From Schengen it was just about an hour to Larochette to the Hotel de la Poste, where we all met again. As there were not enough rooms for all of us in the hotel, Maria had kindly reserved some extra rooms in other hotels on the Place Bleech. But we all could leave our cars with her.
After checking in we went for dinner to the Fielser Stuff, a typical Portuguese restaurant. You really feel like being in Lisbon or Oporto there. Later in the evening we celebrated Peter's birthday on the Hotel de la Poste's terrace.