6. Niederrhein-Tour 2017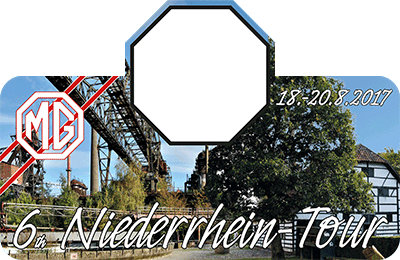 Die sechste (und letzte) Ausgabe der Niederrhein-Tour fand statt
vom 18. bis 20. August 2017
und die Basis für das Wochenende war im Hotel Straelener Hof. 
Nach der schönen – aber sehr langen – Tour 2016 ging es dieses Mal zurück zu den Wurzeln. Das heißt, wir blieben in der Region, natürlich nicht, ohne den traditonellen Abstecher zu unseren niederländischen Nachbarn zu machen. Das Thema des Wochenendes war "Entwicklung am Niederrhein", vom bäuerlichen Leben zur Schwerindustrie.
Treffpunkt am Freitag zum Early Bird war das Freilichtmuseum in Grefrath sein. Leider war dies wetterbedingt etwas problematisch, aber dafür hatten wir am Abend mit allen zusammen ein fabelhaftes Abendessen im Hotel.
Am Samstag besuchten wir zwei Sehenswürdigkeiten: Zuerst ging es etwa 40 Kilometer in das Textilmuseum Die Scheine an den Krickenbecker Seen. Hier genossen wir im Anschluss an eine Lehrstunde über die Herstellung von Garn und Stoff auch das Lunchpaket vom Hotel. Anschließend dann jeweils etwa 95 km hin und zurück nach Emmerich, wo wir das Rheinmuseum besuchten und und Kaffee und Kuchen an der Rheinpromenade hatten. Zum Abendessen gab es im Hotel ein großes Grill-Büffet.
Am Sonntag starteten wir zunächst auf ca. 80 km (1,5 Stunden) zum traditionellen Eisessen in Neukirchen-Vluyn, von dort dann auf einer City-Tour (45 km/1,5 Stunden) durch Krefeld und Duisburg zur letzten Besichtigung mit Linner (das dann wieder zur üblichen Zeit ab 16:30 Uhr begann) im Landschaftspark Nord (eine ehemalige Eisenhütte) in Duisburg.
---
The sixth (and last) edition of the Niederrhein Tour took place on the weekend of
18th to 20th August, 2017
and it was based at the Hotel Straelener Hof.
After the great – but quite long – Tour in 2016, we went back to the roots this time. This means we were staying in the region, but not without the traditional detour to our Dutch neighbours. The overall theme for the weekend had been "Development on the Lower Rhine", from rural life to heavy industries.
Meeting point on Friday will be the open air museum at Grefrath, but due to bad weather conditions this didn't work as panned. Nevertheless we had a great evening all together with a fab dinner at the hotel.
On Saturday, we visited two attractions: first we drove about 40 kms/25 miles to the textile museum Die Scheune, located on the Krickenbeck lakes. After a lesson about local yarn and cloth making we enjoyed the packed lunch provided ba the hotel. Next we drove 95 kms/60 miles there and back to Emmerich, where we visited the Rhine museum and had coffee and cake on the Rhine promenade. For dinner, we had a barbecue buffet served at the hotel.
On Sunday, we first went on an 80 km/50 mile tour (1.5 hours) to the traditional ice cream stop in Neukirchen Vluyn, then on a city tour (45 kms/27 miles, also 1.5 hours) through Krefeld and Duisburg to the last visit, followed by the linner (then set at the usual time again, 4.30 pm) at the Landschftspark (a disused iron works) in Duisburg.