Freitag | Friday
Am Freitag fuhren wir nach dem Stadtrundgang durch Kleve zunächst zum Griethausener Altrhein und nach Düffelward (1), um von dort einen Blick auf die Feste Schenkenschanz zu werfen. Diese Festung lag vor über 450 Jahren mitten im Rhein und war von englischen Truppen besetzt, um die verbündeten Niederlande gegen die Spanier und Österreicher zu schützen.
Von dort ging es weiter nach Kranenburg zum Tanken (2) und dann ins Hotel nach Goch-Kessel.
On Friday, after the guided city walk in Kleve, we drove to the old Rhine arm and then to the Düffelward village (1) to take a look across the dyke to the Schenkenschanz fortress. Over 450 years ago, this fortress was situated in the middle of the Rhine and manned with English troops to keep their Dutch allies safe from the Spaniards and Austrians.
From there, we drove on to Kranenburg to top up fuel (2) and then to our hotel in Goch-Kessel.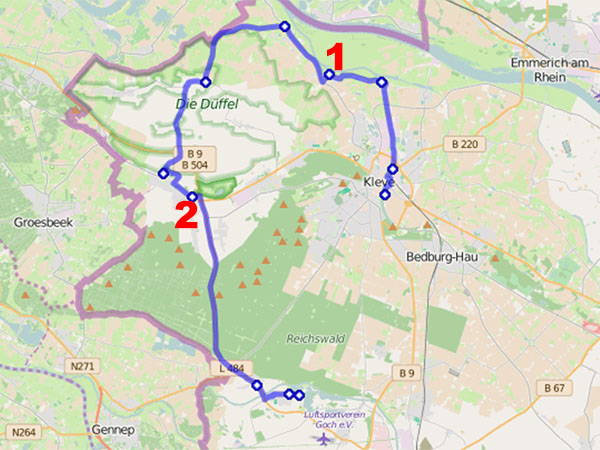 GPX Dateien laden | download GPX files